EF-232-485
RS232 serial output external converter to RS485/RS422 with Source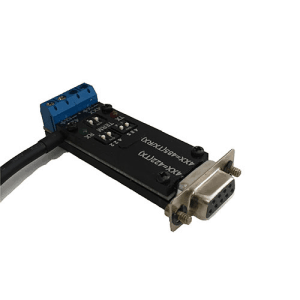 FEATURES
  
His project was developed and implemented with a focus on commercial and industrial automation market, possessing all control signals to a serial output RS485 or RS422 standard. Ideal for installation of doors without the need of opening the equipment.
SPECIFICATIONS
-Converts 1 RS232 serial output for 1 serial output RS485/RS422
-RS232 serial Connection: 1 x DB9 female
-RS485/RS422 serial connection: 4 x borners wire fasteners
-Distance: up to 1,200 meters
-RS485: TX RX TX RX (+) (-)
-RS422: (+) TX, RX, (+) (-) (-) TX RX
 
-Speeds up to 115 kbps
 
-Operating temperature: -15° C to 75° C, humidity 90%, + 5V
-Comes with an external source of 5V switched
APPLICATIONS
 
-Building automation
-Industrial Automation
WARRANTY
 
COMPATIBILITY
Any operating system.
PACKAGE CONTENTS
1 RS232 serial output external converter to RS485/RS422
1 external 5V Supply
1 installation CD