MA-2000-2FX
100BASE-FX Fiber Optic network drive module with 4 outputs, 4 inputs, 2 serial ports and coupled Display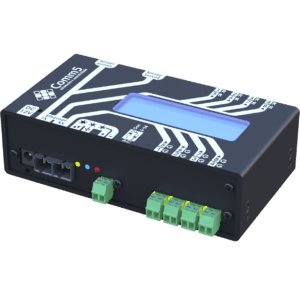 Features
For TCP/IP Network access control, the MA-2000-2FX module of the COMM5 technology accompanies visual interface via display (4×20), 2 serial communication ports, 4 sensors and 4 electromechanical triggers.
All control of the module can be performed by browser or dedicated application. Easy operation eliminates the installation of drivers and support programs for your use.
This model already has a 4-line x 20-column display integrated into the product and is accompanied by DIN rail fitting.
Specifications
-100base-FX Ethernet Network
-Fiber optic connector SC wavelength 1300nm
-4 Dry Contact relays
-Maximum contact load 5amp at 250vac and 30vac in relays
-4 configurable inputs via DIP switch
-Input are opto isolated
-input enables to work with dry contact sensors with local source
-input enables to work with PNP and NPN sensors
-input enables to work with voltage detection from 50v to 220v
-Notification of sensor change by interrupt or Polling
-Led's control
-2 serial outputs (TX/RX) for printer use, barcode reader, etc.
-Integrated Display 4×20
-Power supply from 12v to 24v
-Configuration via browser
Applications
-Opening and closing doors and gates
-Lighting activation
-Equipment Control (standby equipment, motors in general)
-Sensor monitoring
-Triggering of contactors
-Track Control
-use of printer or barcode reader via serial port (TX/RX)
-Messages via display
Approval
The COMM5 technology TCP/IP network drive modules are integrated by the main access and security control software:

Guarantee
1 year (against manufacturing defects)
Compatibility
Any operating system with network.
Package Contents
1 Drive module with 4 inputs and 4 outputs fiber optic network
1 external 12v Source