NET Converter 4 serial outputs RS232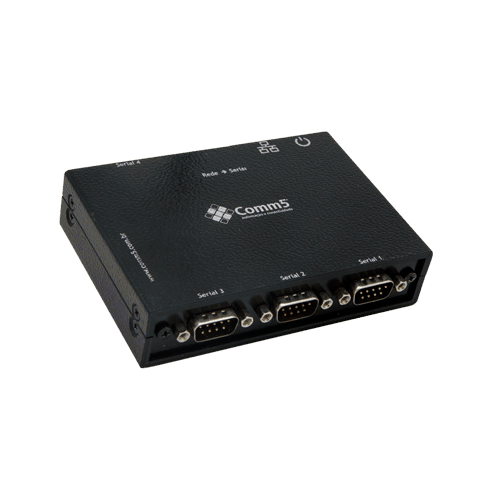 FEATURES
Designed to replace under-utilised only for microcomputers peripheral connection in network, the TCP-4S-2 converter of Comm5 Technology offers up to 4 serial RS232 outputs at any point on a TCP/IP network, thus enabling the remote access serial ports from anywhere in the world via IP address or by the DDNS.
Fully functional, turned on and connected to a local network, any data that arrives in one of the serial port will be sent to the local network and vice versa.
The Comm5 Technology has developed its own virtual serial port generator software: C5. It allows the use of the serial ports of the converter 4S-TCP-2 as if they were COM ports on your PC.
SPECIFICATIONS
 
-Serial RS232 Asynchronous Outputs
-Emulates: 16 c 550 UART
 
 
-Speed: 115kbps
 
-Access via virtual COM ports generator or TCP/IP Socket
-Protection: RS232 5KVA
 
-Operating temperature: -15° C to 75° C, humidity 90%
APPLICATIONS
-Connection to serial printers, scales, barcode readers, pin pads, central security, modems, locally and remotely via TCP/IP network, etc.
-Reading and data transfer through serial console interface of Plcs, switches, servers, locally and remotely via TCP/IP network, among others.
WARRANTY
1 year warranty (only for manufacturing defects)
COMPATIBILITY
 
PACKAGE CONTENTS
1 network Converter 4 serial outputs RS232
1 external power supply
1 installation CD