USB to 1 parallel output LPT Converter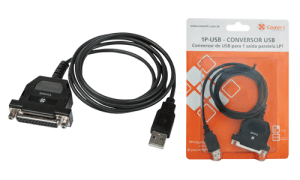 Availability
This product is only available on request, subject to minimum quantity. Contact us for more information.
Features
The COMM5 technology 1p-USB Converter allows you to install up to 1 more bidirectional parallel output (LPT port) on a PC via an available USB port. Its working mode is compatible with most market peripherals (printers, scanners, plotters, etc.).
Ideal for installation of parallel doors without the need to open the equipment.
Specifications
-Converts 1 USB port into 1 parallel output (LPT)
-USB connection: 1 x USB A male
-Parallel Connection: 1 x DB25 Female
-Supports SPP mode
-Avoids conflicts (does not use hardware resources IRQ, i/o, DMA, etc)
-Auto power supply by USB port
-Distance: 3 meters
-Cable 1.5 meters long
-Operating Temperature:-15 ° C to 75 ° C, humidity 90%, + 5v.
Applications
-Connection to printers, scanners, etc.
-Process Control (activation of LEDs, sensors, etc.)
Guarantee
1 year warranty against manufacturing defects.
Compatibility
Win98, Win2000, Win ME, Win XP, Win Vista, Win 7, win 8, win 8.1, win 10 and Linux. Note: incompatible with Hardlock.
Package Contents
1 USB Converter for 1 parallel output LPT
1 Installation CD