USB Converter for 1 centronics parallel output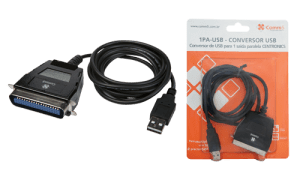 Availability
This product is only available on request, subject to minimum quantity. Contact us for more information.
Features
The 1pa-USB Converter from COMM5 technology allows you to install up to 1 (one) bidirectional centronics (LPT port) Parallel output on a PC via an available USB port.
This converter is ideal for installing printers without using the parallel cable.
Specifications
-Converts 1 USB port into 1 centronics parallel output
-USB connection: 1 x USB A male
-Parallel Connection: 1 x Centronics type connector
-Supports SSP mode
-Avoids conflicts (does not use hardware resources IRQ, i/o, DMA, etc)
-Power supply via USB port
-Cable with 1, 5m length
-Operating Temperature:-15 ° C to 75 ° C, humidity 90%, + 5v
Applications
-Connection with printers, scanners, PIC recorders, etc.
-Process Control (activation of LEDs, sensors, etc.).
Guarantee
1 year warranty against manufacturing defects.
Compatibility
Win98, Win2000, Win ME, Win XP, Win Vista, Win 7, win 8, win 10 and Linux. Note: incompatible with Hardlock.
Package Contents
1 Converter for 1 centronics parallel output
1 Installation CD