Converter USB to RS232 serial output 1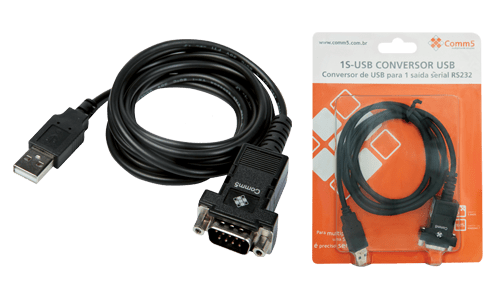 FEATURES
Mindful of the need to control all the signals available on a serial port in the peripherals involved in a mainly commercial automation, 1S-Comm5 USB converter was created especially to take this lack of market. Therefore, your compatibility covers a good part of the serial peripherals in the sectors of commercial, industrial, banking automation, among other segments.
The converter 1S-USB allows you to install a serial output RS232 (COM port) on a PC or notebook via a USB port, without the need of opening the equipment. In addition to being compatible with most Serial peripherals such as: fiscal printer, barcode reader, modems, pin pads, scales, among others.
SPECIFICATIONS
-Converts 1 in 1 USB port RS232 serial output
-USB connection: 1 x USB A male
-Compatible with USB 1.1, 2.0 and 3.0
-Serial connection: 1 x DB9 Male
It has all the serial signals: TXD, RXD available, RTS, CTS, DTR, DSR, DCR and RI
-Speeds up to 921 kbps
-Avoids conflicts (does not use hardware resources IRQ, i/o, DMA, etc)
-Powered by USB port
-Distance RS232 up to 15 meters depending on the speed of communication
-Surge protection 15KV voltage in serial
-EMI shielding superior Protection
-FTDI Chipset
-Operating temperature: -15° C to 75° C, 90% humidity.
APPLICATIONS
-Connection to serial printers, modems, scales, barcode readers, pin pads, high-precision medical equipment, security, etc.
-Reading and data transfer through serial console interface of Plcs, manageable switches, servers, among others.
WARRANTY
5 year warranty against manufacturer's defects
COMPATIBILITY
Windows, Windows CE, Windows, macOS, Linux and RT Android.
Product approved by leading manufacturers of printers and peripherals for business automation.
PACKAGE CONTENTS
1 USB converter for RS232 serial output 1
1 installation CD