SM-1200
Environmental Sensor RS-232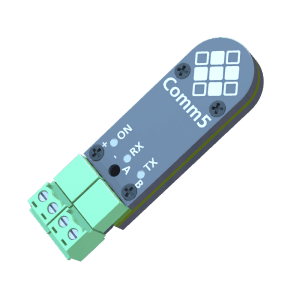 Features
The SM-1200 environmental sensor from Comm5 Technology allows the measurement and monitoring of various physical quantities in a single device of reduced size. It can be used directly connected to a computer through the serial port, or connected to other Comm5 products such as MA-5000-2 or 2S-TCP-2, thus allowing access of the measurements via TCP/IP network.
Signaling Leds indicate input/output activity.
Specifications
– Connection RS-232 via TX/RX Post
– Ambient temperature measurement from -40 to + 85 degrees Celsius.
– Measurement of relative humidity of the air from 0 to 100% rH
– Atmospheric pressure measurement from 300 to 1100 hPa (Hecto Pascal)
– Indicator Leds
– Power from 5v to 12v DC on borne connector
-Dimensions: 65mm x 19mm x 12mm (Length x Width x Height)
Applications
– Residential Automation
– Statistical Process Control
– Monitoring of environments
Warranty
1 year (against manufacturing defects)
Compatibility
Any operating system.
It can be connected to the I/O modules or serial network converters to provide the measurements via TCP/IP connection.
Contents of the Package
1 Sensor SM-1200